This weekly

BOOK PARTY

is an awesome opportunity for book bloggers to connect with other book lovers, make new friends, support each other, and generally just share our love of books!

This weeks Book Blogger Hop is hosted by

Lori's Reading Corner
This weeks Book Blogger Question is:
WHO IS THE ONE AUTHOR THAT YOU ARE DYING TO MEET?
A great question with an easy answer. All book lovers have their favorite authors. Writers and readers alike will stand in line at book signings for the prize of a hand-written pseudonym on the title page, and if we're lucky a photo and a brief chat with their favorite author.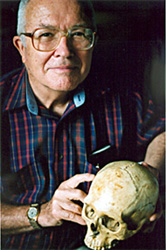 Dr. William "Bill" Bass
I am dying to meet Jefferson Bass; more specifically, Dr. Bill Bass.
He and his colleague, Jon Jefferson write collaboratively under the pseudonym Jefferson Bass. A veteran of the U.S. Army, Dr. Bass is one of the world's leading forensic anthropologists and the founder of the Body Farm, the University of Tennessee's unique facility dedicated to anthropological research.
Writing, humor, anthropology, and law; my favorite interests. Jefferson Bass delivers them all. Their novels are filled with intrigue, suspense, unforgettable characters, unique stories and plotlines, humor, witty dialog, and vividly described anthropological details that every reader of mystery, crime, and thriller would appreciate.
I've been hooked on the writing of Jefferson Bass since first picking up Carved in Bone in 2006. It seems only one new novel is released per year. The wait is long but utterly worth it...even if I do eagerly zip through a new novel in a matter of hours then have to start the year-long wait all over again. Totally worth it. :)